Before we get started we make sure that our group is prepared for a safe paddling experience. If needed, you will learn the basic paddling techniques to be ready for paddling. We plan our excursion together depending of the desires of the group. Tea/coffee, snacks, lunch and full paddling equipment are included. Bring water and another set of clothes – rain clothes if needed, otherwise sun block and hat. Good general health and ability to swim 200 m is required. Minimum of 4, maximum 10 participants. Private groups – always 2 nature/kayak guides.
Price 2200 SEK/person, Minimum price 6500 SEK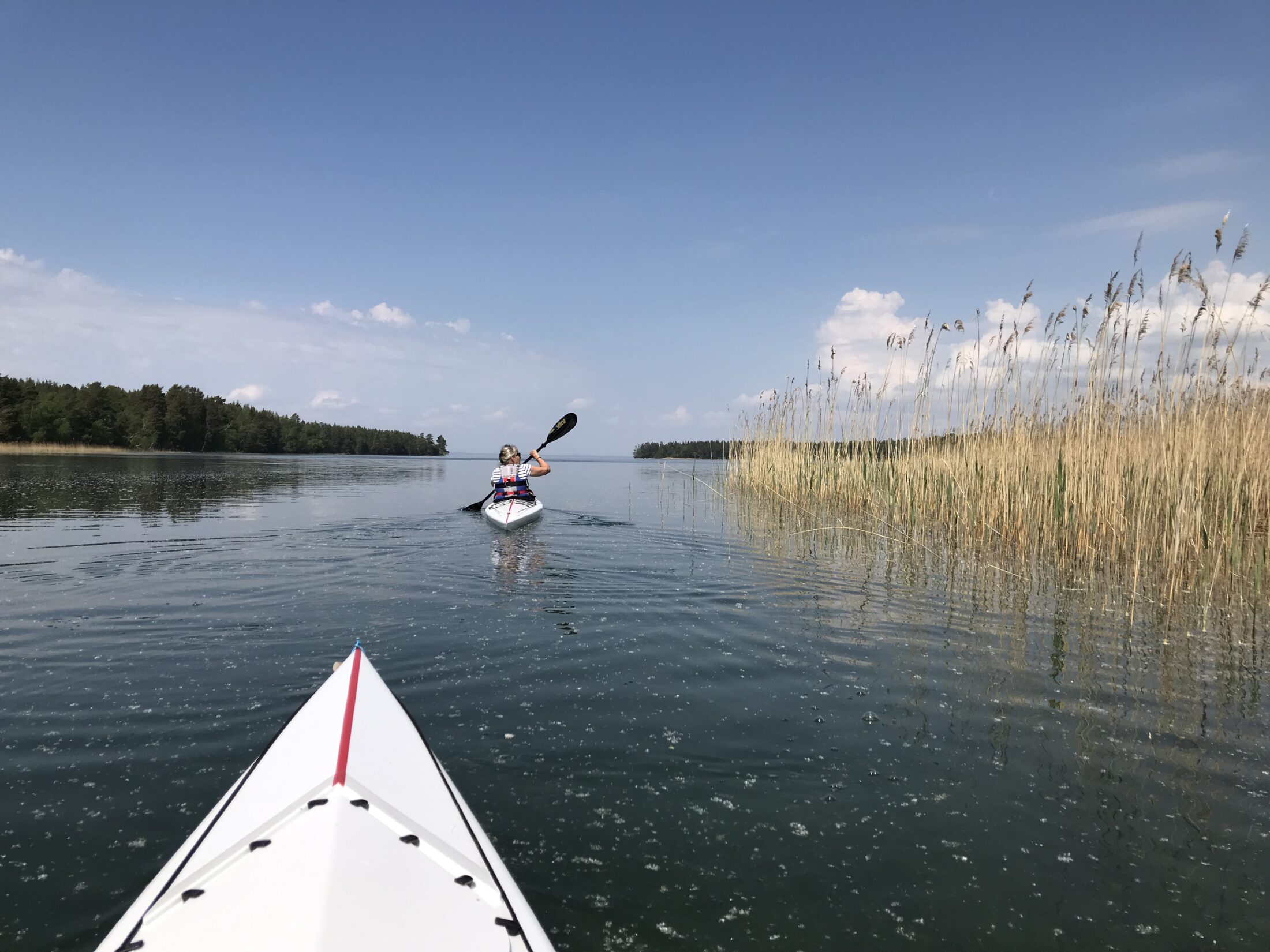 7. Guided Kayak Tour Vättern Ecopark
In the northern part of Lake Vättern is a nature reserve, with about 50 inviting islands. It is always possible to find a sheltered kayak route in between the islands and islets in the archipelago. The view from the outer islands towards the open horizon south is breath taking. To hear the sounds from loons, to listen and follow the falcon in its hunt of insects or to discover the osprey by its huge nest (from a distance) are some of the highlights. When we are hungry we make stops for our home-made snacks and lunch. A hot day the crystal-clear water tempts us for a swim. It is always nice with a camp fire for the lunch break. The nature, geology and history have a lot to tell us, which we want to share. Information Eco Park
8. Guided Kayak Tour with Snorkeling
 Lake Vättern has a lot of old shipwrecks which are well preserved in the greatly clear water. This is a combined kayak tour with snorkeling around three small, old shipwrecks. The excursion starts at Medevi Brygga, an old steam boat jetty. We paddle between small islands and along a stretch of islands. There is plenty of time to enjoy the different birds of the area – maybe we will see an osprey. When we are hungry we stop on one of the rocky islands or by a sandy beach for home-made snacks. Time for snorkeling – wet suit, cyclops, snorkel and flippers on!  Are you getting hungry? Don't worry, there is still more food – maybe by a camp fire.
If you want to extend your paddling with some days more, it is possible to extend or combine above packages.
We are helpful with suggestions of suitable accommodation nearby.