For three days in the beginning of November we were fortunate to visit Lake Rogen Nature Reserve.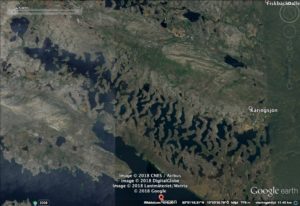 We skated in a landscape formed by the inland ice – a geologist's dream. The Rogen moraine consists of stones and gravel in a network of ridges with lakes in between. The park ranger Per Roger Wiberg guided us through the magic landscape. He knows his landscape well and has a lot to tell about wild life, human life and nature in this region.
Our starting point was by lake Käringsjön, the childhood home of Per Roger, at the end of the road. The source of the longest river in Sweden is situated here.
Old twisted pine trees and abandoned rowing boats remind us of times gone by. Common Goldeneyes find their nests in holes of pine trees. Nest boxes made of old hollow pine trunks are still there showing us how the grandfather of Per Roger got eggs from birds arriving in spring.
Smooth skating in a foggy environment and walks over low ridges to find new exciting lakes.
The primeval forest, with pine trees that can be many hundred years old, is impressive and and the lichens light up the landscape. The yellow Wolf Lichen" – Letharia Vulpina – is found in very old forests and not common at all in Sweden nowadays.
The last day we were lucky to see the sun. Even if the temperature was a couple of degrees above zero the ice was skatable. The water on the ice gave gorgeous reflections in all different colours.
Nordic Skating is a wonderful way to experience new environments, nature and wildlife. We met some Capercailles, grouses, a frozen frog and found droppings of reindeer on the ice. Eventually – on our way home – we met hundreds of reindeers. What a start of this season!