Lake Vänern is one of a kind – a paddlers dream. With its 22 000 islands and islets the lake has unique archipelagos with shallow waters in a wild and untamed environment – perfect for adventurous kayakers to explore.
Mostly Nordic EcoTours start their 1- 4 day guided kayaking tours from Ekenäs – the south end of the peninsula Värmlandsnäs, Säffle community. Here you find the biggest archipelagos of lake Vänern – Millesvik and Lurö. Hundreds of uninhabited islands will welcome you in an unspoiled environment.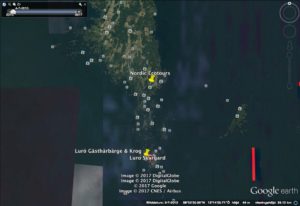 The horizon can be seen in east and west direction. Southwards the archipelago is waiting with its islands and islets. It's an amazing freshwater world to explore and also to discover its beauty.
The weather can change dramatically in a very short time, from no waves at all to one meter high waves in half an hour, out in the open waters.
Skilled instructors will guide you the safest track protected by islands. We adapt the tour to the groups ability and interest.
Time for lunch after some hours paddling passing unnumbered islands with spectacular names such as "Tyskland" (Germany), Hökön "(The Hawk island") and "Hammaren" (the Hammer).
Long time ago in the early 18th and 19th century som people lived here all year long. They were fishing and farming and some were working as lighthouse keepers. You will also find an old boat station at Aspholmen, service station in olden days for small ships that were loaded with cargo. Today it's a little harbour adapted for tourists.
On the biggest island Lurö – there has been an inn for hundreds of years. Even today there´s a guesthouse and restaurant .
On the east side of the island you can visit the remains of an old church. The monks' pilgrims route passed here in the Middle ages.They came from the south side of lake Vänern, from monasteries (eg Varnhem) on their way to Nidaros Cathedral, Trondheim. .
Happy kayakers after a day in the nature reserve Lurö Skärgård (archipelago)