The paddle season never ends. It´s only the ice that stops us. The November light offers magic moments with ever shifting sea, light and sky. We paddled out after a couple of stormy days and nights to enjoy the very moment after a storm.
It´s a very special feeling to paddle through the ice age sculptured rock archipelago, in northern Bohuslän, with blue light to the east and golden light over the horizon in west.
We are moving slowly in silent waters and hear the sound from huge sea swells that break the inserts. It´s a very special feeling that moves our souls and hearts – has to be experienced to be understood.
Far and no further! Moving around safe in the sea swells we have a lot of fun.
Meandering around small islands and through rocky sounds we couldn´t resist another try in the sea swells. That gives adrenaline kicks – for sure. Back home again in the dark. Now the most spectacular home ride where every paddle stroke made the bioluminiscence sparkle as fire works in the water. Looks like Aurora Borealis (Northern lights) in the water. A fantastic phenomena made by glowing algae.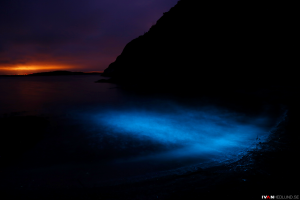 Our motto is: Search, explore and discover!