It's a quarter to three at night. The moon is full and we are paddling slowly in silvery water.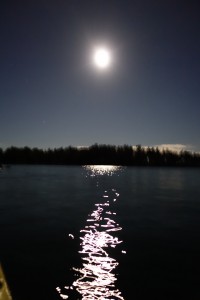 The forest and the surrounding mountains are reflected in the water, creating a magical scenery. We are looking out towards lake Vättern´s wide waters and over our heads we see a beautiful starry sky with the full moon in the background.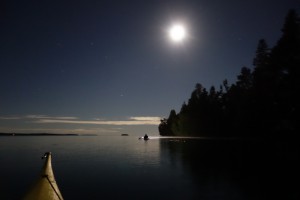 Shortly after three o´clock, the moon slowly darkens more and more. The stars in the sky emerge. Orion and the Winter Triangle slowly rise in the east. We can recognize Sirius – our brightest star behind the pine hills to the east. Straight over our heads the Milky way shines brighter and brighter. In the space above us "Cassiopeia" and "the Pleiades" twinkle. The Swan looks as it is heading towards us. Behind us, to the north, lies the big Dipper safe "on the back" high up in the infinite space. After an hour, the moon is completely eclipsed but it spreads a faint reddish glow. Watching through binoculars the moon gives an amazing crimson light. We go ashore on an island and light a warming fire.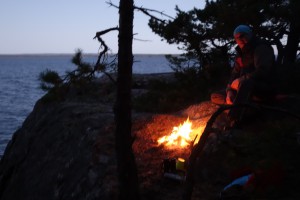 In front of us the full moon "floats" in space. The white colour is taking over again and the red colour is disappearing.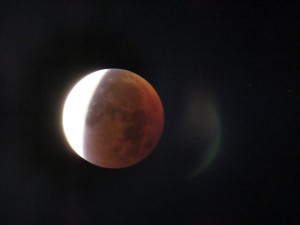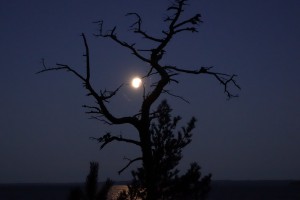 We feel the grandeur of nature and our own insignificance. Around six in the morning the "ordinary" full moon is back again. The sun rises and spreads its warm rays.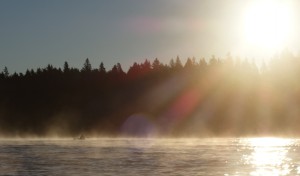 We paddle back very happy and full of energy after a night of magnificent experiences. Join Nordic Ecotours for night kayaking or night skating during the winter months when the night sky is at its best!