Already 1555 Olaus Magnus wrote about the big, strange lakes in Scandinavia. Of these he found lake Vänern to be the foremost lake. Around midsummer we had a two days trip along the western coastline of Värmlandsnäs. It was really a luxuary trip – one night in tent and one night at Krokstad Mansion. The hosts gave us a warm welcome, excellent food and perfect accomodation.
We left Ökenviken (Desert bay) – a nice sandy beach – late afternoon. The rain threatened us but we were lucky to leave it on mainland.
When we woke up we were met by a blue sky. After breakfast we had a nice walk on the island and admired the special plants in blossom. Flowers in yellow and purple lit up the grey rocks.
On our way to Krokstad Mansion we passed the archipelago "Fyllingarna". In the distance we saw two trees – a very special landmark. It seems almost impossible that two alder trees have survived during these conditions. Gulls, terns and mergansers took care of their chicks on the rocky islands. Two ospreys were circling watchful in the sky.
There are many attractive islands and islets to investigate. They are perfect for lunch breaks, sun bathing and swimming. The further out in the archipelago we were the clearer was the water. There is a big difference in flora and fauna in the outer islets than on the islands with more vegetation and trees.
Another world was emerging. Reeds, water lilies, marsh harriers, reed buntings, reed warblers and a silent flowing river. To our great amazement we observed a flying bittern just in front of us. Great luck for bird lovers!
It was a great feeling leaving vast lake Vänern with its blue water, enormous horizon and silent birdlife meeting the green park of Krokstad with its old trees, the glass art in the park and to check in at the mansion with lovely rooms. In the evening the four course dinner was an adventure in itself created by the excellent chef Håkan Mattson.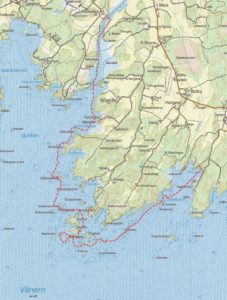 New adventures are awaiting. Why don´t you join us on this 20 km trip? Please contact us for more information!