After miles and miles of skating we were longing to get out in the kayak on open waters. It was both winter and spring in the air. The bare rocks were covered with a thin layer of snow, nice slush on the shore but we got our reward of spring – special meetings with different migrant birds and the joy of paddling in a calm archipelago apart from calling sounds of eiders and plovers.
There was almost no wind, -5 degrees C and clear sky. Could it be better? Our goal was the seal colony about 4 km south. After paddling a couple of kilometers over oyster and mussels banks we spotted a welcomed guest – our first Oyster Catcher! Yipppeee – spring is arriving.
Slowly, slowly and silently we approached the seal colony. From a distance we saw them lying on the islets but sadly they were too shy for us. All of them dived down and curiously they observed us from the water. BUT – to our delight we came really close to about 15 purple sandpipers. Some purple sandpipers stay in our region over winter but most of them migrate to southern Europe before they come back. Were these migratory birds or had they stayed here all winter?
The sandpipers flew south – we turned back to our starting point in tail wind. So fantastic.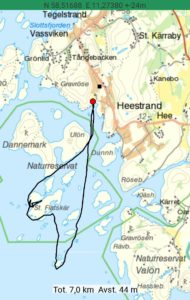 Only a 7 km trip but it gave us so much inspiration, energy and hope for new experiences and adventures and a feeling of the wonderful spring season which is already here.
As we say – the big adventure is sometimes just by the corner. It doesn´t have to take too much planning and effort to experience if you have the right equipment and be open to use all your senses to take in what nature offers you.
Would you like to join us? Please send us a mail to info@nordicecotours.com and we will plan your dream experience in unspoilt nature!
Starting point Heestrand Bohuslän and Medevi Brunn Östergötland